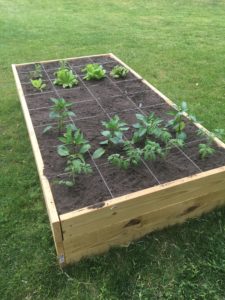 While I didn't build the raised beds for our vegetable garden with my own hands, I supervised. I was super impatient about making choices and getting the beds built so I could start planting, but there are some important decisions to be made.
You'll want to consult with other gardeners in your area to determine the species of wood and pest control solutions you may need to make your raised garden a success. Here's how it went.
What materials are used? After a brief discussion about building the raised garden beds out of patio pavers, we ended up going with Southern Yellow Pine (SYP) for the walls and Douglas Fir 4×4 posts to reinforce the corners. These species were inexpensive and non-treated, which is important for growing food. SYP is available in treated and untreated versions, so make sure you double check the stack you buy from. Cedar, redwood and hemlock are also good choices if they're cost effective in your area.
How big is it? We built two beds for now, with dimensions of 4 feet x 8 feet and 18 inches deep. We thought 12 inches would be too shallow, but 24 inches too deep, so we split the difference.
In each corner, the planks are attached to the corner posts with lots of 3 1/2″ deck screws. The posts are on top of the grass, not driven into the ground. The weight of the soil is more than enough to hold the beds in place.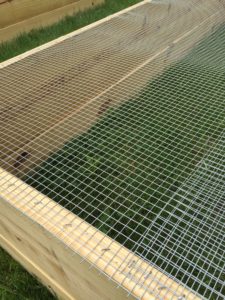 How will we keep pests out? I hear from other gardeners in our neighborhood that our biggest problems will be rabbits and moles. The height will hopefully help keep the rabbits out. We also lined the bottoms of the beds with 1/2″ galvanized hardware cloth, to keep out any pests coming in from underneath. The hardware cloth is stapled to the bottom of the garden beds with a staple gun. And we used galvanized wire every 8 to 10 inches to join the two sections of hardware cloth. Hopefully, this prevents any underground visitors to our garden.
What about the soil? Soil is a mix of topsoil, compost and peat. It was delivered in bulk from a local landscape supply company. Each bed required almost 2 yards of soil. That's a lot
Here's the equation for figuring out how much you'll need: number of cubic feet in your beds (in our case, 4 x 8 x 1.5 = 96) divided by the number of feet in a cubic yard (27). The result is about 1.8 yards per bed.
One last touch is a grid dividing the beds for square foot planting. We used mason line, a nylon string, and attached it to the garden bed walls with decking screws. Really indulges my need for order.
I planted up these raised beds on June 4, including plants, direct sow seeds and some sprouted potatoes. Updates to come.