Do you have a beginner gardener to shop for this holiday season? Here are a few gardening gift ideas to generate more success in the garden or to keep a beginner gardener's inspiration going strong through the winter.
---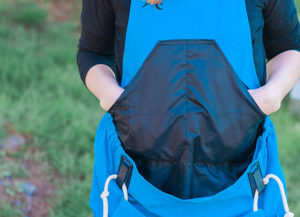 Women's clothes do not have pockets. It makes me insane. That's why I like the big pouch in Roo Aprons. Keep your garden tools in reach or harvest or weed away. The pouch opens at the bottom when you're ready to empty it. And it keeps your clothes clean(er). Nice colors. Cool design.
Roo aprons were designed by a mom who was looking to simplify things. Yes and yes.
---
Some Funky Varieties To Grow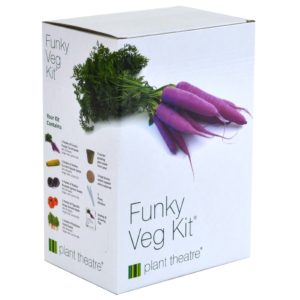 This kit keeps coming up in my suggestions from Amazon: the Plant Theatre Funky Veg Kit. It includes Cosmic Purple Carrot, Golden Zucchini Squash, Tigerella Stripy Tomatoes, Rubine Brussels Sprouts and Rainbow Chard seeds, along with plant markers and peat blocks. Funky, right?
The company also offers a gourmet flower kit, a psychedelic salad kit and a cocktail garden kit, among others.
Even if these particular kits aren't on your shopping list, offering a beginner gardener some unique and difficult-to-find seeds would always be welcome.
---
Flower Of The Month Club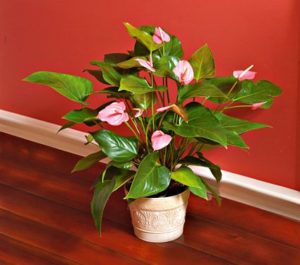 Pretty much a jackpot gift, in my opinion. Check out the monthly options at White Flower Farm, where you can give a houseplant, cut flower, rose or orchid of the month. Even annuals!
The houseplant for my birthday month is this beautiful pink anthurium *cough cough*.
---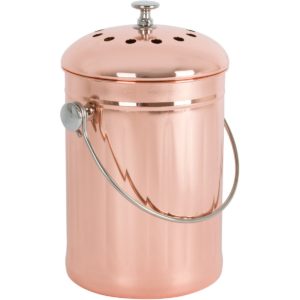 When you grow vegetables, you eat more vegetables. And you create more kitchen waste. The natural next step is to compost.
The outdoor compost bin you use is a personal choice, but this copper kitchen compost bin would look great on any counter. I bought this one and can tell you that the includes carbon filter really works. It holds at least a few days worth of scraps.
---
Grow Lights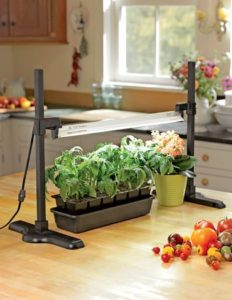 There are a lot of different types and sizes of grow lights out there, but this grow light and stand from Gardener's Supply Company is great for beginners. Once you see how much your plants benefit from being under lights, you can get a bigger setup for your basement or work area and keep this on your kitchen counter. Here's the one I have in my basement. Keep those plants happy during the winter!
Great for herbs, houseplants and succulents that are 18 inches or less.
---
Books. You Know, Like Paper Books.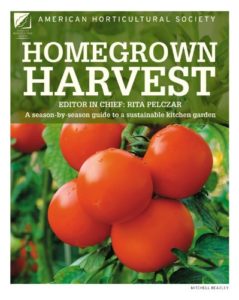 I'm hesitant to put any one book on the list because there's no way you can fit everything you need to know about gardening into one volume. I started checking books out of the library to take what I need from each. After I borrowed this one, I tracked down a copy of this one to keep.
Homegrown Harvest by the American Horticultural Society runs down information for each crop by season. Nice illustrations for pruning and harvesting, too. Thumbs up.
---
Succulent Cuttings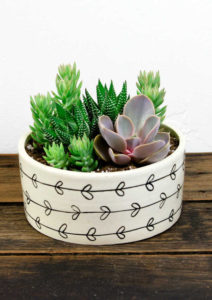 Earlier this year, I bought a batch of 25 succulent cuttings from PlantMadre and I'd say they turned out pretty awesome. You can plant them in a dish garden or wreath, or, like I did, plant them individually and see what happens next.
For a more do-it-for-me gift, this Etsy shop also offers great planters, dish gardens and terrariums. My favorite is the heart dish shown here.
---
Hose Timer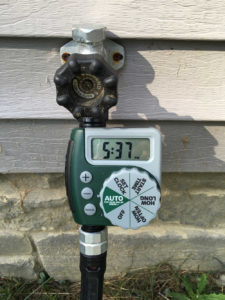 When they open the box, it's not going to be sexy. When they can sleep in because they don't have to get up to water the tomatoes — that's pretty sexy. I still think it's my most important garden tool. Here's the timer I'm using from Orbit Irrigation.
If using a timer means a jump from hand watering to the less labor-intensive methods of sprinkler or drip irrigation, a few more items will be required. Get a gift card to cover these, because again, which method your beginner gardener uses is probably a matter of personal preference.